Senior Home Care Tips on Walking Every Day
April 5, 2023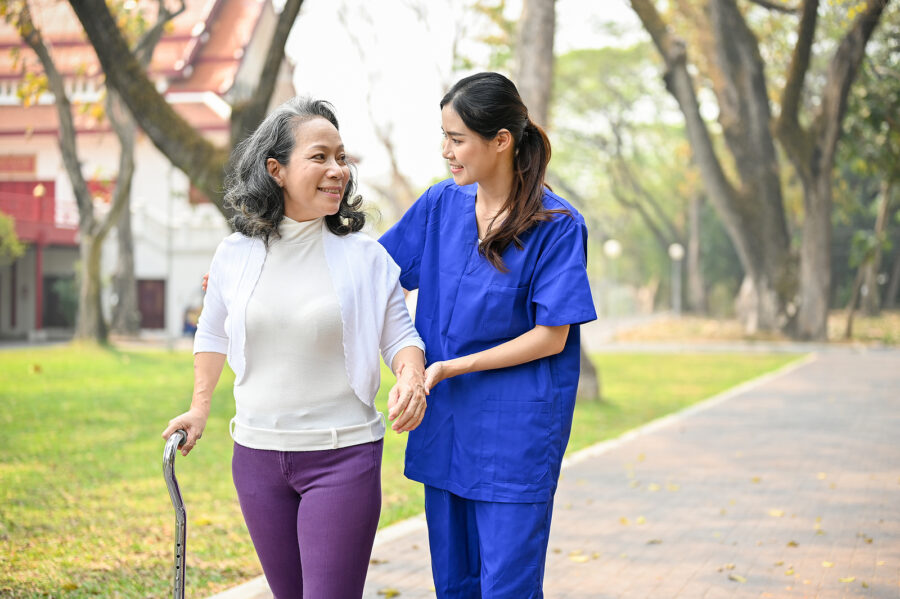 No matter your age, it would significantly help your health if you walked daily. There are many reasons why a short walk of 30 minutes a few times a week can be life-changing. It's a simple exercise that is easier on the joints than running and is good for physical and mental health. When your elderly loved one is on a budget, this is the perfect activity for them every day because it is completely free and something that senior home care can help with. This is a way to reduce stress, feel grounded daily, and boost a senior's mood. Here are a few benefits of walking for elderly individuals.
Walking Boosts a Seniors Heart Health
Walking is something super easy, but it has a significant impact on heart health. It's one of the easiest ways to strengthen a senior's heart. Regular walking strengthens your heart muscle and improves your heart's ability to pump blood around your body. This leads to lower blood pressure and a decrease in your risk for heart disease. Senior home care can help your elderly loved one get up and start the morning with a short walk! This is something so easy it can be incorporated into their daily routine.
Walks Help Manage Blood Sugar
If diabetes or blood pressure is a concern for a senior, then walking should be added into their daily routine. If a senior is not able to do a full walk of thirty minutes, they should start with fifteen minutes to start with! Just fifteen minutes before or after a meal will help a senior digest food and use the blood sugar to build muscles! Also, if your senior loved one already has diabetes and takes insulin every day, they may find the insulin works better after a short walk.
Walking Can Be a Good Way to Socialize
As seniors walk, they are likely to meet new people and may even form new friendships. Walking in a group can also be an excellent way for seniors to socialize, allowing them to meet new people and engage in conversation. Even if your elderly loved one wants to be alone, just going to the park and being around others can boost their mood and give them the feeling of socialization which can be mentally healthy.
Walking is a Good Immunity Booster
When a senior focuses on walking daily, it means they are finding ways to lower their stress level, which can be linked to a higher rate of disease and illness. On top of that, a senior may find that by walking, their circulation increases which can help expel certain toxins that make a senior feel ill.
Walks Can Boost Mental Clarity
Walking increases blood flow to the brain and releases hormones such as serotonin and endorphins that can help reduce stress and improve mood. In addition, this exercise can help clear the mind, allowing reflection and problem-solving. Boosting mental clarity is something that many seniors want to do because they may feel more brain fog or fatigue from sleeping changes or medications. A walk in the morning can help a senior wake up and feel ready to take on the day.
If you or an aging loved one are considering hiring Senior Home Care in Greentree, PA, please contact the caring staff at In-Home Quality Care today. Serving the Greater Pittsburgh Area since 1990! Call 412-421-5202