6 Strategies for Caregiving During Middle Stage Alzheimer's Disease
August 30, 2018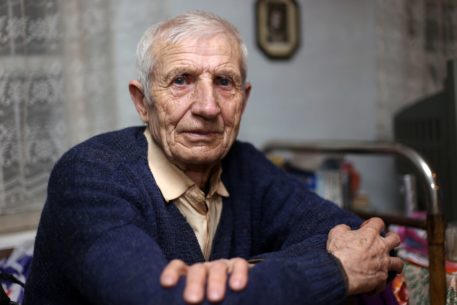 Perhaps one of the most difficult conditions to be a family caregiver for is Alzheimer's disease (AD). Because the abilities of a person with AD may fluctuate and their behavior is sometimes unpredictable, family members may be uncertain of what to expect from day to day. As the disease progresses, family caregivers take on more and more responsibilities. During the middle stages of AD, older adults begin needing more constant care than in the early stage of the disease. Below are 6 strategies to help you deal with middle stage AD.
#1 Make Safety Modifications
During the middle stages, people with AD may start exhibiting some difficult behaviors that are common to the disease, such as wandering. To keep your aging relative safe, you may need to make some changes to the house. You may need to keep doors and windows locked to prevent the senior from leaving the house unattended. It can help to place locks high up on doors where they aren't as easily noticeable. You should also lock away any potentially harmful objects, like weapons, household chemicals, and knives.
#2 Have a Medical Release on File
The older adult will need assistance in managing medical appointments and care. It's important to have a medical release on file with the doctor so that they can talk to you about your loved one's condition.
#3 Change the Way You Communicate
Communication becomes increasingly difficult as AD progresses. The older adult will have more trouble understanding what you say, so you'll need to change the way you communicate with them. It can help to speak slowly and more precisely. Keep sentences short and clear. When you ask questions, keep them simple. Open-ended questions can be more confusing than those that offer a choice.
#4 Don't Take Behaviors Personally
Your aging relative may sometimes act in ways that are disturbing. They might be aggressive or forget who you are. It's difficult to see these changes in someone you love but try not to take them personally. Remember that their behavior is a symptom of the disease and not a reaction to you.
#5 Take Care of Yourself
Caregiving becomes more demanding as the disease gets worse. Many caregivers get so absorbed in taking care of their family member that they neglect their own health. However, you'll be a more effective caregiver if you're healthy. Be sure to attend your regular medical appointments, exercise, and eat right.
#6 Get Help
No one can be expected to provide all the care a person with AD needs alone. You will need help. One way to get help caring for the older adult is to hire elderly care through an agency. Elderly care providers can fill in gaps in the care calendar to ensure continuous care even when family caregivers are not available. Elderly care can also offer respite care to give family members a break when needed.
If you or an aging loved-one are considering Homecare in Pittsburgh, PA, please contact the caring staff at In-Home Quality Care today.
Serving the Greater Pittsburgh Area since 1990! Call 412-421-5202
Sources
Alz.org
Caregiver.com
Caregiver.org