Homecare: Four Ways Homecare Aides Help at Dinner Time
August 20, 2021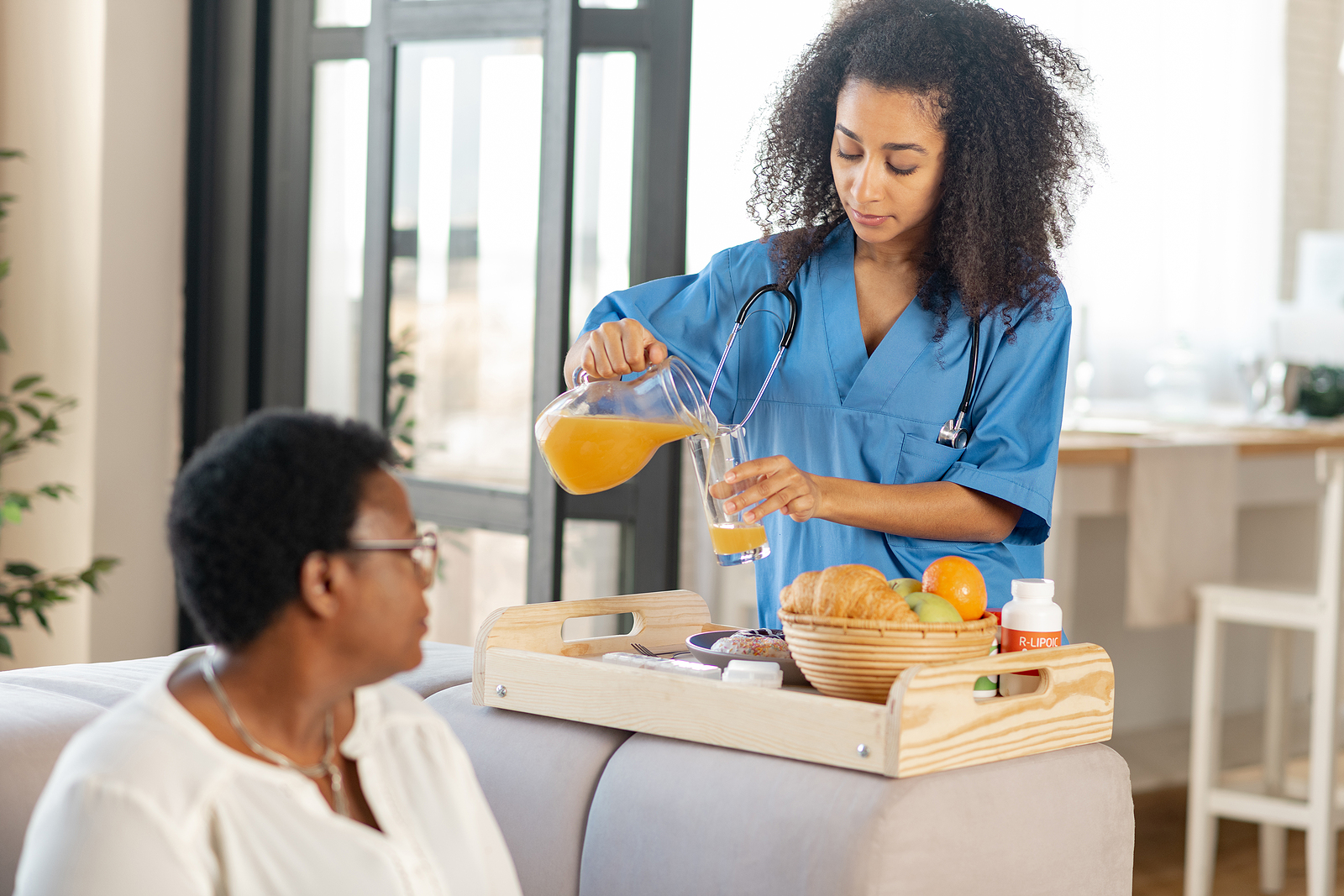 Homecare: It's estimated that half of all elderly adults are malnourished.
This doesn't mean your parents are not eating enough. Malnutrition can be a case of missing out on foods rich in vital nutrients. Your parents may not feel like cooking. They may lack energy or suffer from pain due to arthritis in the ankles, knees, hands, or back, making it hard to cook a full meal. Takeout meals, frozen pizzas, and packaged meals are what they rely on. The problem with heat-and-eat meals is that they're often high in sodium, saturated fat, and added sugar. They're not part of a balanced diet. Change their habits by hiring homecare aides for meal preparation services. They'll help in these four ways.
1 – Menu Planning
Your parents work with their caregivers to come up with a weekly menu. Once the menu is created, the caregiver can go through the refrigerator, pantry, and freezer to see if they're missing anything. Those items that are needed to cook the different meals go onto a shopping list.
2 – Grocery Shopping
Your parents can go grocery shopping with their caregivers. They have someone with them to read the fine print on nutrition labels. They have someone to help them reach items on upper shelves, pick out the freshest items by reading expiration dates, and help them pay.
After shopping, caregivers can carry the bags to the car, load them, drive your parents home, and carry in the bags. They can put everything away for your mom and dad.
3 – Food Prep
Your parents may not like prepping foods, but their caregivers can. They'll have a caregiver to chop up ingredients, package them up, and have everything read in advance for meals throughout the week.
When your parents want their meal, the caregiver will cook everything to their preferences. If your mom wants low-sodium, she gets it. If she hates her steak rare, the caregiver will cook it correctly for her tastes.
4 – Feeding Time
Your parents may have a hard time cutting up meats into bite-size pieces. It's okay as the caregiver can cut up things for them. If your mom or dad's fine motor skills are diminishing, the caregiver can even help them eat and clean up after.
It's important to arrange homecare as soon as it's needed. You want to get your parents used to their caregivers and not have to rush the introduction. It's best to be available for a few days. Work in another room while the caregiver is working with your parents to get to know them.
Once they're comfortable, you'll be able to leave the house and know your parents have the help they need with meals. Call a home care agency to schedule the services your parents need.

If you or an aging loved-one are considering hiring a Homecare in Sewickley, PA, please contact the caring staff at In-Home Quality Care today. Serving the Greater Pittsburgh Area since 1990! Call 412-421-5202
Sources:
https://acl.gov/news-and-events/acl-blog/combatting-senior-malnutrition