Tips for Senior Caregivers on Choosing Jigsaw Puzzles
October 3, 2019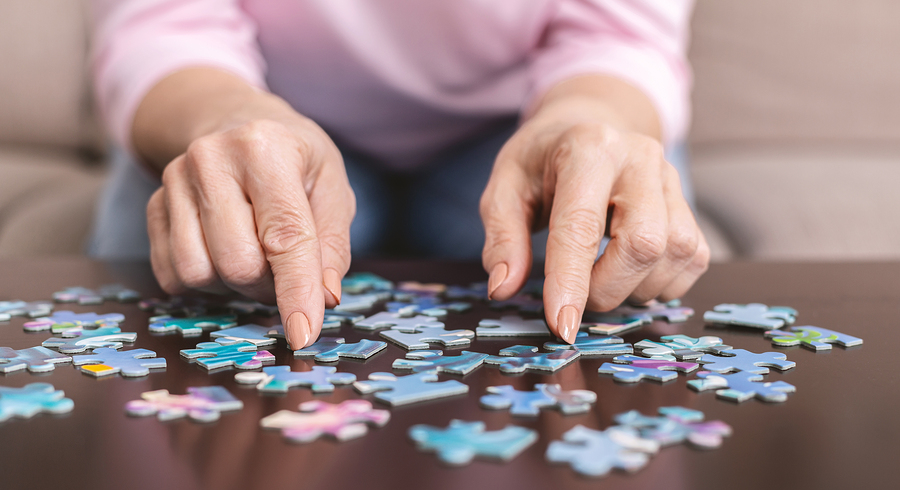 Many seniors enjoy putting together jigsaw puzzles. Jigsaw puzzles can be great fun and can offer many valuable health benefits to seniors, especially those who suffer from Alzheimer's, dementia, or memory loss.
The Benefits of Jigsaw Puzzles.
Research shows that doing jigsaw puzzles can:
Slow the rate of decline in cognitive function
Improve brain function
Strengthen visual perception
Improve physical health
Help to live longer
Making jigsaw puzzles a part of your senior caregiving routine can be a valuable benefit to your loved one, especially if you take time to work on the puzzle together. If you sit down together and work on a puzzle as a team, you can provide your senior loved one with:
Conversation
Encouragement
Support
Supervision
Companionship
A home care provider can assist in this capacity. Finding a home care provider to assist your senior with jigsaw puzzles also can provide a perfect opportunity for you, as a caregiver, to accomplish other important tasks or simply to take some time for yourself to rest.
Choosing the Correct Puzzle.
If you are not able to participate in putting the puzzle together, you still can contribute to your senior's care by choosing a puzzle that is conducive to the benefits described above. Here are five tips for senior caregivers to consider when choosing a puzzle:
1. Choose a puzzle that is challenging but not frustrating.
Avoid children's puzzles
Avoid puzzles with large pieces that may be too easy
Avoid puzzles with very few colors that may be too difficult
2. Consider the degree of your senior's memory loss.
For a senior with minimal or no memory loss, begin with puzzles that have about 500 pieces; increase the number of pieces as the senior improves in the activity
As your senior's cognitive skills diminish, choose puzzles with pieces that gradually decrease in number and provide bigger, easier pieces
3. Consider the senior's vision and manual dexterity.
Choose puzzles with pieces the senior can see; if the senior has difficulty seeing the pieces, try using a magnifying glass
Choose sufficiently large puzzles pieces that the senior can easily pick up and manipulate with their fingers
4. Choose puzzles with appropriate pictures.
Choose puzzles with happy, colorful pictures
Look for pictures related to the senior's interests or hobbies
You can even customize the puzzle to incorporate a personal picture (for example, a grandchild, pet, or familiar location)
5. Create a comfortable puzzle environment.
Set-up in an area with plenty of light
Make the space comfortable
Set a white table cloth under the puzzle to make it easier to see the pieces
Your home care service provider can assist you in planning "puzzle time" into your senior caregiver routine. Most importantly for your senior loved one, involving your home care provider can enhance the benefits of jigsaw puzzling for your senior by offering the most important element of any senior activity—human companionship.
If you or an aging loved-one are considering hiring Home Care in Sewickley, PA, please contact the caring staff at In-Home Quality Care today. Serving the Greater Pittsburgh Area since 1990! Call 412-421-5202
Sources:
Cbsnews.com
Jigsawpuzzlesforadults.com
Boomers-with-elderly-parents.com
Medicalxpress.com