The Importance of Senior Foot Care
October 30, 2020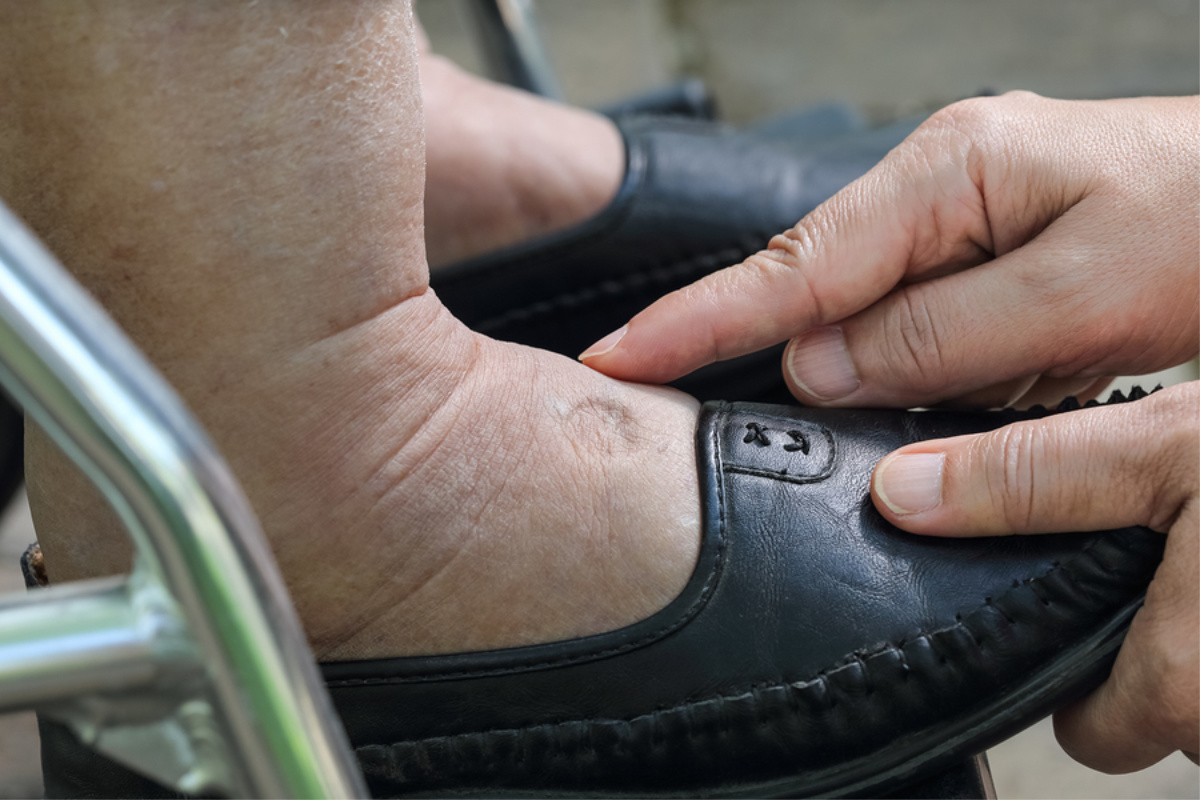 Regular foot care for seniors is extremely important for their health and wellbeing — especially if they have cardiovascular disease, diabetes, or other conditions that impair circulation to the lower legs.
Decreased circulation means decreased ability to heal, so any kind of cut or injury — or even an ingrown toenail — can quickly become a big problem for which amputation is the only option. Additionally, foot pain can contribute to decreased mobility. This can lead to a number of poor outcomes, including a reduced activity level, increased muscle weakness, and falls.
To prevent complications such as these, seniors should examine the bottom of their feet every day. They should look for any cuts, splinters, broken skin, blisters, or reddened areas. If anything is noted and does not heal within 24 hours, they should notify their doctor.
Seniors can increase blood flow by wiggling their toes, rolling their ankles or tapping their feet throughout the day. Elevating legs throughout the day is also an important step to reduce swelling and promote circulation.
Wear the Right Footwear
It's important to have the right footwear — and it's important to wear it all the time. Socks and shoes should be worn even indoors to protect the feet from injury. Since foot injuries can be so detrimental and so difficult to heal in seniors with circulatory problems, prevention is the name of the game.
Socks
Socks should not leave an indentation in the legs. Sometimes socks fit fine in the morning, but by evening they are too tight around the lower legs. This can inhibit the flow of blood to the feet and exacerbate problems. Look for seamless socks that will fit comfortably all throughout the day. Many health supply stores sell "diabetic socks" which are designed to comfortably stretch and without binding.
Shoes
It's important that shoes fit well, without rubbing or causing redness or soreness to the feet. Due to variation in size due to swelling, seniors may find that shoes fit tighter in the evening than the morning, or tighter one day over the next. Velcro, adjustable or orthopedic shoes may be a good investment. It's very important to foot health to be sure that shoes always fit properly.
Slippers
Be sure that slippers stay on securely. When they easily slip off the foot they put the senior at risk for a foot injury or a fall.
Keep the feet dry
Moisture can damage skin and lead to rashes or other complications. Be sure to keep the feet dry at all times. Acrylic blend socks tend to be best for keeping the feet dry.
Moisturize with Lotion
Lotion the feet daily to promote healthy skin, but avoid getting lotion between the toes. It can contribute to skin breakdown due to the warm skin-on-skin conditions there.
Foot Soak
A daily foot care routine could include a foot bath. This can be very comforting and relaxing, as well as promoting circulation and healthy skin. Be sure the water is warm, but not hot, and that the feet are completely dry afterward. Pay special attention to dry gently between the toes.
Professional Senior Care can Help
Seniors often have trouble examining and caring for their own feet, so many enlist the help of professional senior care aides for daily foot care. Senior care aides can help inspect, wash, dry, and lotion a senior's feet regularly to prevent complications. Some incorporate this routine into a relaxing bedtime ritual or a pleasant way to start the day.
If you or an aging loved-one are considering hiring Elder Care in Pittsburgh, PA, please contact the caring staff at In-Home Quality Care today. Serving the Greater Pittsburgh Area since 1990! Call 412-421-5202
Sources