Can Personal Care at Home Help Seniors With Eczema?
June 8, 2023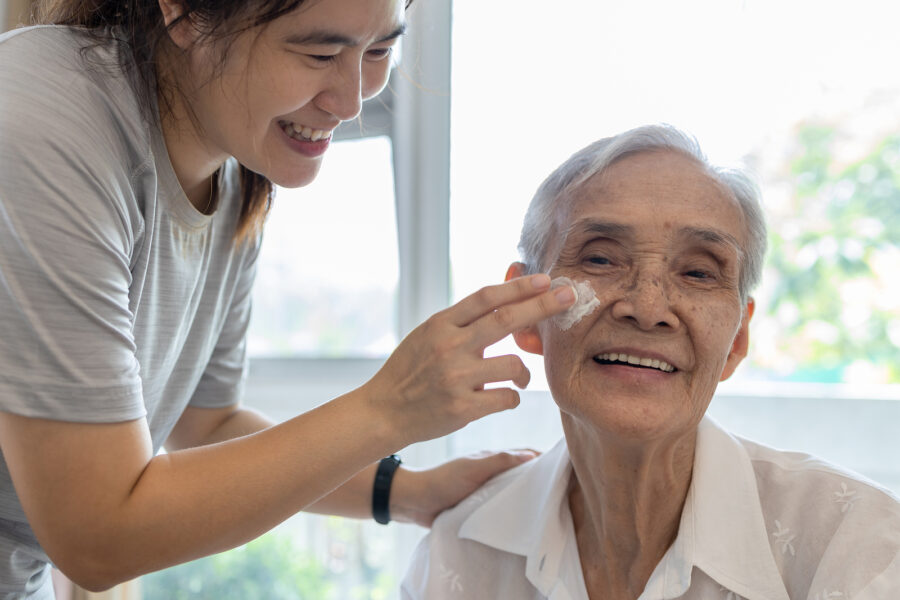 Around 16.5 million U.S. adults have eczema, and 40% of those cases are moderate or severe. When adults have eczema, it comes with a higher risk of other autoimmune conditions, eye disease, insomnia, diabetes, obesity, heart disease, and high blood pressure.
Your mom has eczema and struggles with it. She's tired and depressed, both of which are common. She cannot stop itching, yet she's not supposed to touch the patches. Have you considered the benefits she'd gain with personal care at home?
Guidance in the Shower
One of the things that a personal care at home provider can do is ensure your mom is setting the water in her shower to an appropriate temperature. If the water is too hot, it can be drying. A body wash or soap that lacks fragrance and harsh chemicals is important.
When washing irritated skin, it helps to skip using a loofah, scrub brush, or exfoliator. Use a gentle washcloth or your hand. Rinse all soap products off to prevent irritation from build-up.
Fully Dry and Moisturize Irritated Skin
Make sure all excess moisture is removed from eczema patches. Once her skin is completely dry, moisturize it with a cream or lotion designed for eczema. Avoid irritants like perfumes, parabens, and chemicals. Tea tree oil is often helpful in easing eczema flare-ups.
Your mom's caregiver can help her look over the skin creams she has and choose the right one. Her caregiver can read ingredient labels and tell her what each cream contains to rule out any that might irritate your mom's skin.
Apply moisturizer over the entire body. Even areas that don't have patches of eczema need to be moisturized. It helps prevent dry, flaking, and cracking skin and keeps her skin looking younger and radiant.
Assistance With Dressing in Appropriate Clothing
Finally, your mom's grooming and hygiene needs require her to wear clothing that doesn't cling tightly or prevent her skin from breathing. Her caregiver can help her choose a suitable outfit for the day's weather to keep her from overheating or trapping moisture against the skin.
Hire personal care at home to help her take care of her grooming and hygiene tasks. Caregivers can help her with skincare and bathing routines as well as fully dry her skin and apply moisturizers and lotions that will ease the itching and redness.
Talk to a home care specialist about personal care at home for your mom. Eczema is often triggered by stress, so the more help she has around the home, the less stress she'll experience. When your mom has someone to help her shower, dry off, apply lotion, and dress, it's going to ease stress and help her start her day without frustration.
If you or an aging loved one are considering hiring Personal Care at Home in Oakland, PA, please contact the caring staff at In-Home Quality Care today. Serving the Greater Pittsburgh Area since 1990! Call 412-421-5202