Alzheimer's Care Helps With Family Burnout
June 2, 2023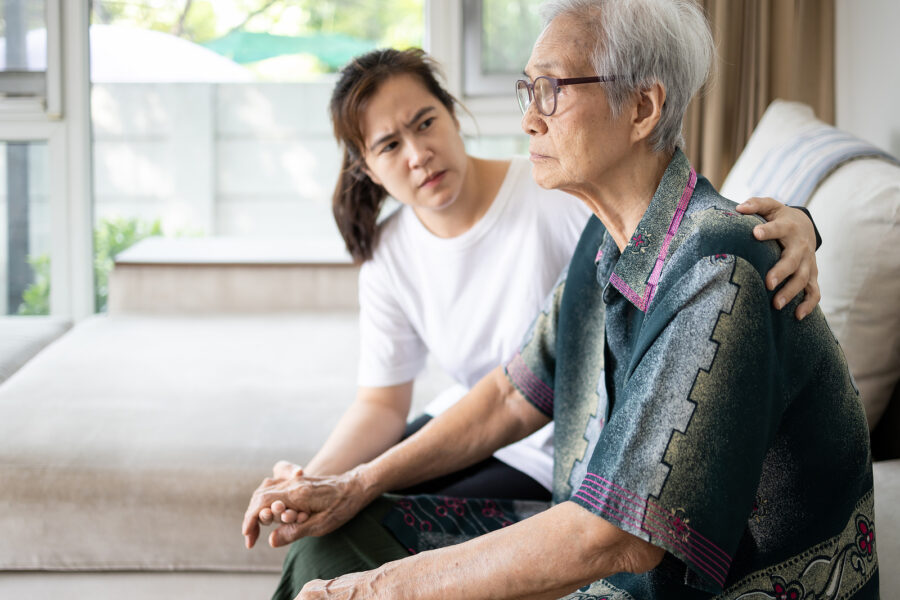 In 2021, AARP's study found that there were almost 42 million unpaid caregivers in the U.S. helping someone aged 50 or older. The average caregiver's age is 50, which means that many unpaid caregivers are working at the same time they provide that care. Having an Alzheimer's care provider is a great option to help alleviate the stress of juggling a family caregiver schedule.
More than half of all unpaid caregivers provide care to an aging parent. How long do they provide this care for? While 43% are in that role for no more than a year, 28% are in that role for five or more years.
Family Caregivers
Alzheimer's disease is one of the leading issues impacting families. You're caring for your mom, and it's been years since her diagnosis. You're starting to wonder how much longer you can manage.
But, you have other relatives saying that it's your responsibility and that outside help is a horrible way to treat the woman who raised you. You're ashamed to admit that it's too much. Are you being unfair to your mom? The answer is a resounding no.
Nothing is more important than your self-care needs. You cannot keep putting your mom first and ignoring your own emotional, physical, and mental health. You'll crash. It's time to talk to an Alzheimer's care specialist.
What is Alzheimer's Care?
Alzheimer's care is a type of home care that's specialized for people with Alzheimer's disease. It takes some of the stress off your shoulders.
One of the toughest aspects of being a family caregiver to a parent with Alzheimer's involves the anger that occurs with sundowning. In a flash, your mom goes from being happy to screaming at you, and you can't stop to cry and decompress.
The moment your mom forgets who you are, she may start having anxiety attacks when you enter the room. You're essentially a stranger to her. That's also difficult to handle, especially if she tries to get away or take a defensive stance and become aggressive.
When is Alzheimer's Care Necessary?
How do you know when it's time for Alzheimer's care? One reason to consider it is when she's dealing with insomnia. Your mom will start having a harder time talking to you. You have to learn what her gestures mean. If you don't get things right the first time, she'll become frustrated with you around her. It helps to have another person helping out.
You have to get to know her warning signs that she's becoming distressed or needs the toilet. If you wait too long, she's bound to have an accident and need a new outfit and a shower. She might go hours without having a drink and become dehydrated. She was hungry, even though she just ate, or did not eat enough. As her swallowing skills diminish, she needs to be monitored while she eats.
You have to always be on 24/7 because she may not sleep as much. It's not unusual to have your mom suddenly only need two hours of sleep a night, and if she's left alone, she tries to wander away. You need sleep and a break from time to time.
There is nothing wrong with admitting you're overwhelmed and burned out. It's more common than you might think. Call an Alzheimer's care advisor and learn how to take care of yourself by making sure you take breaks as much as you need.
If you or an aging loved one are considering hiring Alzheimer's Care in Shadyside, PA, please contact the caring staff at In-Home Quality Care today. Serving the Greater Pittsburgh Area since 1990! Call 412-421-5202