4 Things to Think About After Your Senior Parent Has a Fall
February 14, 2023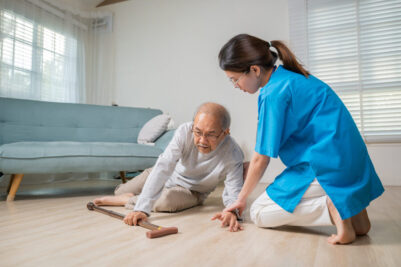 When your senior parent has a fall at home it can be very scary. They may need to spend some time in the hospital, or even in a rehab facility if they are badly injured. But when they come home there will need to be some changes in the home so that they can safely get around and heal from their injuries without falling again or making their injuries worse. Four things that will help your senior loved one after a fall are:
Home Care Assistance
Home care assistance is something that will benefit all seniors. But after your senior parent has a fall, they'll need home care assistance to make sure that they don't fall again at home. Home care assistance includes help for seniors with things like laundry, meal preparation, housecleaning, and getting around the house. Having home care assistance will also give you the peace of mind of knowing that your senior loved one isn't home alone in case they need help. 
Carefully Placed Furniture
If your senior loved one is having trouble getting around the house because they are recovering from a fall it's a good idea to place chairs or benches at strategic points throughout the house so that your senior loved one can sit down if they need to. A hallway bench or a comfortable chair placed between the kitchen and living room will allow your senior loved one to grab onto something sturdy if they need the support or sit down and take a break before continuing to get to another part of the house.
Making Floors Less Slippery
After your senior parent has a fall, they're probably going to be walking very gingerly around the house and trying to avoid falling again. If the floors are hardwood, tile, or just slippery in general you can add decals, scuff paint, or other coatings to the floor that will make the floor less slippery. That way if your senior loved one is walking in the house in socks or slippers you and they won't have to worry about them falling. You can also put a non-slip coating on the bathroom floors so that your senior loved one is less likely to slip and fall when they are using the bathroom or taking a shower. 
Rearrange The Kitchen
It might be surprising but many seniors end up falling or getting hurt in the kitchen. Having to reach for things or reach down to cupboards and drawers near the floor can cause seniors to fall. So it's a good idea to rearrange the kitchen after your senior loved one has a fall. Put the pots and pans, dishes, and other items that your senior loved one uses every day on the counter at arm level so they won't have to reach for anything. If there is a movable island in the kitchen lock the wheels to make sure the island won't slip or move if your senior loved one needs to grab it or lean on it.
If you or an aging loved one are considering hiring Home Care Assistance in Shadyside, PA, please contact the caring staff at In-Home Quality Care today. Serving the Greater Pittsburgh Area since 1990! Call 412-421-5202